JP Vest

100x100g packets with 2L of JP Vest Special Liquid
Click Images To Enlarge

A revolutionary investment for pressable ceramics. Super smooth surfaces and no reaction layer!

Just blast the pressings with glass bead, hydrofluoric acid is not needed. Most importantly post finishing time is drastically reduced.

On some restorations you can even skip the glaze firing. A high luster finish can be achieved using our water soluble diamond polishing paste or rubber polishers unless you want to add glaze, stain, or other characterization, then it usually only takes one firing cycle because the pressings come out so smooth.

Did you know that you can use JP Vest for metal casting too? We recommend the following special liquid ratio for cast frameworks; 20mL of JP Vest Special Liquid + 4mL distilled H2O per 100g of JP Vest. As you can see in this photo JP Vest delivers a precision fit and incredibly clean, smooth metal castings. These were done with Ivoclar d.sign 91 60% ceramic gold alloy using a conventional burnout at 1450°F.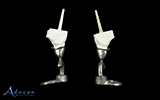 To place an order by phone please call us at 817-496-8939
Or to place an order by email Toothworks.Dental.Supply@gmail.com