StoneCoat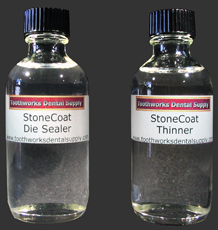 $25 - The kit contains one 2 oz bottle of sealer and one 2 oz bottle of thinner.
Waterproof sealer for dies and models.

Use as a glaze coating on diagnostic wax-ups.
Add contacts on full contour waxed crowns, it burns out clean.
Die sealer for porcelain margins in one coat.
Can be used for die relief.
Seal adjacent teeth, ridge areas and opposing models in one coat.
Dries quickly.
Guaranteed to work better than anything else on the market.
To place an order by phone please call us at 817-496-8939
Or to place an order by email Toothworks.Dental.Supply@gmail.com